<< Previous | Story Intro | Return to Stories | Next >>
---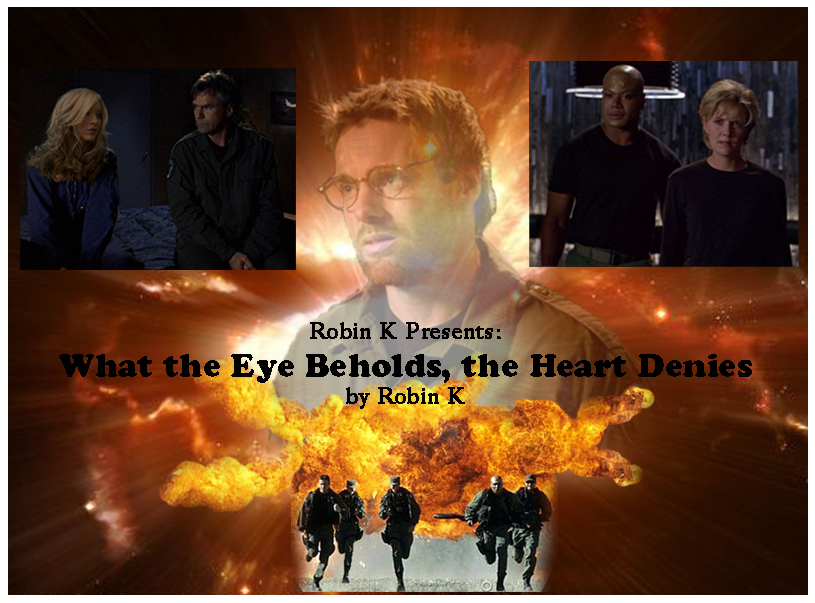 Disclaimer...
I don't own 'em. Not making any money off of them. All story ideas are original.
Summary...
A dark blanket. Fireworks. Silver and gold tubes. What could the three very different things that Casey 'sees' mean? The interpretation comes too late to for a beloved member of SG-1, and leaves the rest of the team struggling to cope with the aftermath. But is all as it seems...?

Story Category: Angst, Hurt/Comfort
Characters...
Stargate SG-1…
Dr. Daniel Jackson
Col. Jack O'Neill
Maj. Samantha Carter
Teal'c
Gen. George Hammond
Dr. Janet Fraiser
Col. William Ronson
Maj. Louis Ferretti
Maj. Dave Dixon
Mst. Sgt. Walter Harriman
Gen. Jacob Carter/Selmak
Ren Au
Aldwin/Gerim
Freya/Anise
Oma Desala


Original...
Casey Jackson
Miss Eloise
Gary Franklin
Admiral Sheraton
Maj. Tim Andrews
Maj. Evan Parker
Maj. Mark Newsome
Sgt. Dobson
1st Sgt. Tony Sabotti
Sgt. Paul Murphy
Maj. Deke Anderson
Father William (Ascended)
Arlinda (Ascended)
Kiam (tribesman)
Old Father Maelu (tribesman)


Lyrics...
"Can't Live"
performed by Mariah Carey


"You're the One"
by The Carpenters
Rating...

No copyright infringement intended.
---
<< Previous | Story Intro | Return to Stories | Next >>