<< Previous | Story Intro | Return to Stories | Next >>
---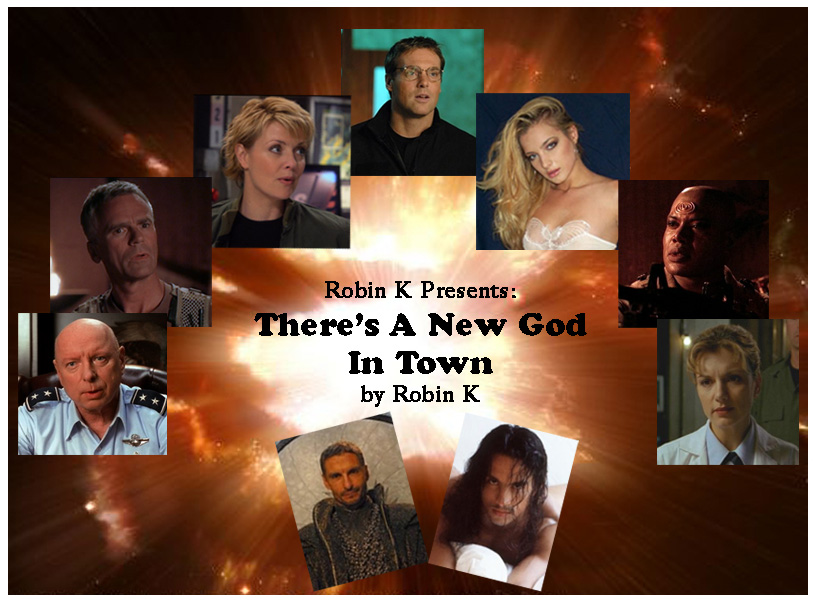 Disclaimer...
I don't own 'em. Not making any money off of them. All story ideas are original.
Summary...
Jack finally gets a chance to fly an F-302 in 'war games', only to have the game rudely interrupted by the arrival of a new Goa'uld. The first encounter is typical for SG-1, although their presence on the alien ship will be long remembered.

Story Category: Action/Adventure
Characters...
Stargate SG-1…
Dr. Daniel Jackson
Col. Jack O'Neill
Maj. Samantha Carter
Teal'c
Gen. George Hammond
Col. William Ronson
Major. Erin Gant
Major Peter Delouise
Ba'al (Goa'uld)


Original...
Casey Jackson
SG-12:
Major Deke Anderson
1st Lt. Rolly Baker
Sgt. Larry Childers
Sgt. Buford Dobson


F-302 Pilots:

Captain James "Lurch" Riley
Captain Michael "Turbine" Stewart
Captain Robert "Aztec" Dupree
Captain David "Odie" Sanders
Captain Douglas "Torch" Rose
Captain Richard "Nasty" Bowler


Zeus (Goa'uld)
Diokles (Zeus' First Prime)
Charis (Zeus' charlatan seer)
Lyrics...
"New Kid In Town"
Performed by the Eagles
Written by Don Henley/Glenn Fry/J.D. Souther
Rating...

No copyright infringement intended.
---
<< Previous | Story Intro | Return to Stories | Next >>